BioMiMetiC
An intensive production system.
Increasing harvests from natural resource deposits is jeopardizing the sustainability of our production systems. Meanwhile, demographic growth accompanied by a change in consumption patterns leads to the depletion of our natural resources and the pollution of our environment.
... non-exploited resources
Every year, more than a third of global food production is wasted (FAO, 2013), and only 20% of the waste generated is biologically recovered.
In France, we generate 20 Mt of bio-waste per year.

Faced with the challenges of this ecological transition and a tightening regulatory framework, our project intends to provide an operational and sustainable solution that reduces the environmental impact of our current production and processing sectors.
The inCUBE® concept.
BioMiMetiC has developed an innovative and integrated technology allowing the value enhancement of bio-waste via a natural process called entomo-conversion.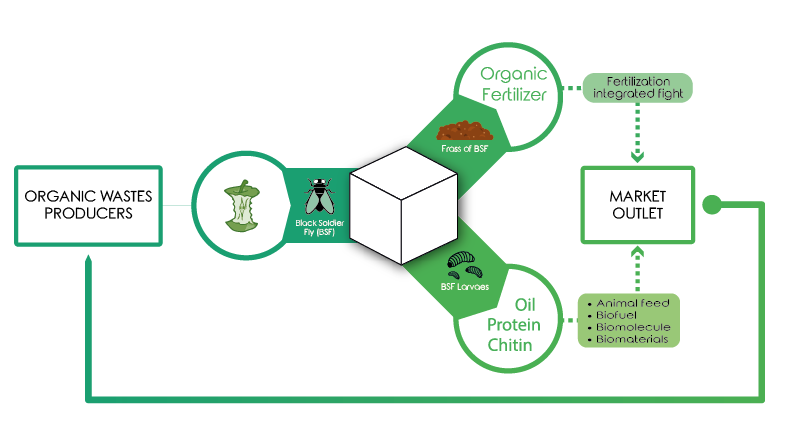 A natural and ecological process
Our technology optimizes natural and ecological processes, while maintening total respect of all environmental measures.
We use the insect, the black soldier fly (Hermetia illucens), to transform organic co-products from agricultural and agro-food sectors (bio-waste). At the end of the entomo-conversion process we obtain two valuable products: larvae and insect manure.
Products with high added value
Product from entomo-conversion have interesting properties that can be exploited in various sectors.
Insect larvae contain many substances of interest for animal nutrition (e.g. proteins, lipids, fibers, carbohydrates, minerals and vitamins) but also for other uses in pharmaceuticals, cosmetics and biomedical sectors.
In addition, insect manure has rich agronomic characteristics and can be valued as an organic amendment for plant nutrition.
A circular and profitable business model
BioMiMetiC's strategy is based on a disruptive model that is based in the logic of circular economy and industrial ecology.
Indeed, our solution meets the needs of treatment and recovery while ensuring the production of end-use products, giving your company the option to substitute controversial raw materials for a sustainable solution.

BioMiMetiC has developed an innovative local treatment technology using insects to optimize bio-waste management, ensuring sustainable profitability and a limited carbon footprint for your company.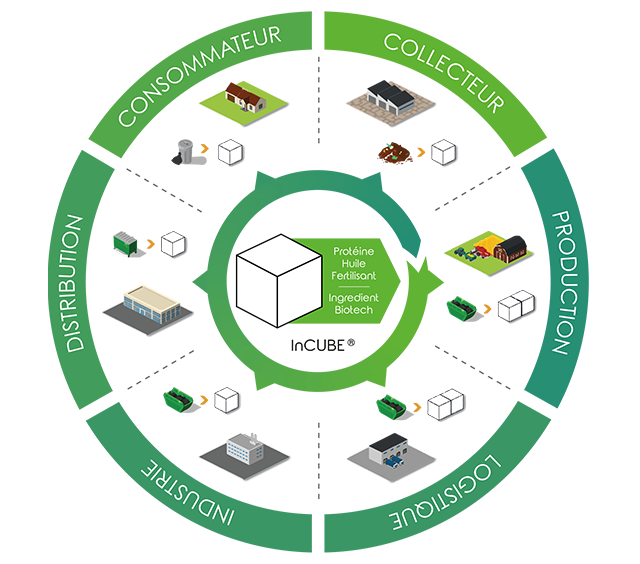 « La mouche soldat noire a la faculté de valoriser
les matières organiques en décomposition »

Biomimetic : un cube connecté et géré à distance
Focus
Solution
A local solution for the recovery of bio-waste
BioMiMetiC provides an ecological and efficient solution for your company by deploying the technology and equipment at your sites, providing value by being positionned close to raw material bio-waste.

InCUBE® a patented entomo-conversion unit
InCube is a patented entomo-conversion technology dedicated to the treatment of bio-waste for the recovery of organic co-products generated at all stages of the food value chain.
Services
BioMiMetiC provides exceptional expertise and support in the management and recovery of your bio-waste.

A pilot site dedicated to our customers
BioMiMetiC is located in the heart of Avignon, an area ocupied by companies producing co-products and organic materials from fruits and vegetables. Our larval production unit is housed in a 1000 m2 warehouse and is used to supply our InCUBE® units in production.

BioMiMetiC will be conducting research and development activities at the Avignon site aimed at enhancing the value of entomo-conversion on a wide variety of organic materials generated in the area at all levels of the food value chain.

A reliable after sales service
BioMiMetiC strives to adapt to the constraints of your sites and ensures a quality follow-up with a single interlocutor.
We train your employees and guarantee your autonomy with fast and efficient internalization and operation of the technology to convert your organic matter.

Compliance with regulations
We ensure that all regulatory requirements are met, including conducting a technology audits to ensure our customers are in compliance with the current legislation.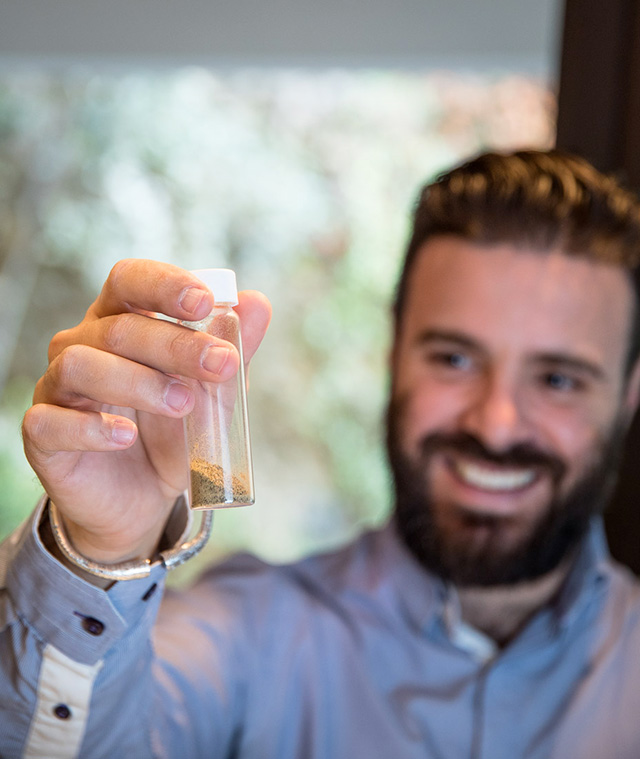 ReUse - Transform - Create